The small, Scottish, seaside town of Troon appears, on the face of it, to be a pretty unlikely place for a rock festival to take place. If someone proposed to hold it at the end of November, it might seem even less plausible, but that's what just happened and, not only that, it was a rip-roaring success.
When I first saw the promotional material for WinterStorm XVI back in September via Twitter, I thought it looked like it might be worth a punt. I'd never seen FM live and always meant to. I never got the chance to see Vivian Campbell from Last In Line live as he'd left Dio by the first time I saw them but, again, really wanted to. I'd just seen Toseland live and knew how good he was. A few of the other acts sounded good via some YouTube research and with 14 bands on the bill, and a very reasonable asking price of £50 for the whole weekend, it was a no-brainer.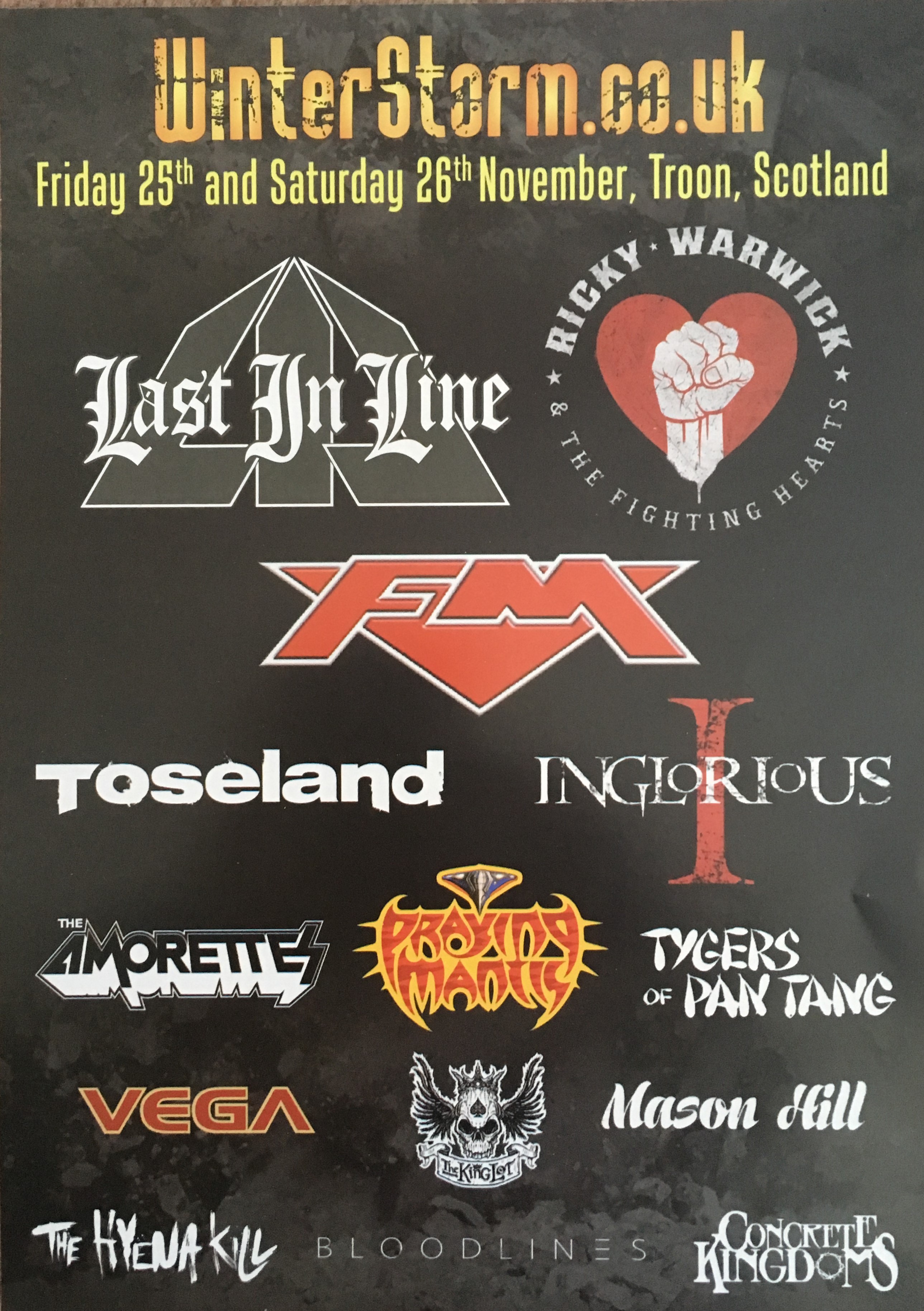 Due to illness, my pal couldn't make the Friday, so I drove down myself. Troon is a nice wee place, and it's not that hard to get to, but it is a bit off the beaten track as far as rock n roll goes. However, when I eventually got to the venue – The Troon Concert Hall – I was impressed. It looks recently refurbished and it's bright and clean. The staff were friendly and welcoming and, as soon as I set foot in the place, it just felt right.
What music appeals to someone is entirely subjective, so I'm not going to spend any time talking about the bands I didn't rate all that highly. I'm not really into slagging bands off. I know what it takes to get to this level, and my negative opinion is neither relevant nor required. There will be plenty of folk there who would choose other bands than I did among their highlights, and that's fine. I didn't watch a couple of the acts as they just weren't my kind of thing but I can say, from the reaction of others, that all of them did a great job of pleasing the folks who were into them. So, I'll just run you through the bands that really stood out for me.
The King Lot delivered a catchy, upbeat set, full of harmonised vocals and punchy riffs. It also turned out that the frontman, Jason Sweeney, was an old bandmate and friend of an old bandmate and friend of mine! After their set, we had a chat and took a slightly offensive photo to send to our mutual friend. Look out for their charity Xmas single 'Wings' in aid of Multiple Sclerosis. It's catchy and it's for a good cause.
Toseland put on a show that definitely got the crowd going. His band is great, and he can belt out a tune, but the drummer – Joe Yoshida – really stands out. They are well worth going to see if you're into melodic hard rock.
FM were just so good. I love the album 'Tough It Out', which I've been listening to since the late eighties, and to finally hear some of those songs performed live was special. The vocal performance of Steve Overland was a revelation and I will most definitely be going to see them again.
Mason Hill are a young, up-and-coming, Scottish band, without a record deal as yet, but they have all the ingredients to make them massive: great stage craft, well-written songs, and bags of energy and self-belief. I bought their self-produced EP and it's superb.
Vega were another band I'd never seen and knew only a little about before Winter Storm. They were fantastic. Tight as a gnat's proverbial and as catchy as you could ever hope for. I bought their latest CD 'Who We Are' after the show and it's brilliant. I'll be going to see them again.
Last In Line were the absolute highlight of the weekend for me. Before they went on I had the rather surreal experience of sitting near the serving hatch for the café in the merchandising/relaxation area as drummer, Vinny Appice, ordered a pie and a coffee. This is a guy who's played massive stadiums all over the world with Black Sabbath. In Troon. In November. Ordering a pie! Their set blew the roof off, with the biggest crowd of the weekend singing along and roaring their approval throughout. Just awesome.
Top notch musical performances aside, the organisers are to be applauded for the smooth running of the event, the relaxed, friendly atmosphere, where the bands mixed freely with the punters, signing things, chatting and drinking, and the high standard of the facilities. They also chose a great compere in the Scottish rock radio legend Tom Russell, who was funny, charming and enthusiastic. For a first time event, it was nothing short of miraculous how well it went.
It looks like they've probably done enough to justify a repeat next year. If that's the case, I'll be booking a B&B or hotel next time and making a proper weekend of it. If you like this sort of music, you should be looking out for next year's event. If it's even half as good as this one, it'll be a belter!
Peter Carroll