I know a lot of people are cynical and dismissive of folks when they profess their grief for a dead rock star they've never met, but I don't give a damn about those people. Those people either never considered music to be as important a part of their life as food, or are just contrary shitbags who enjoy annoying others and getting a rise from them.  So, right off the bat, I'm making no apologies or excuses for this. It's something I feel compelled to do and I'm doing it.
Yesterday, 18th November 2017, I found out that a musical colossus, Malcolm Young, had passed away. It says a lot about someone who is responsible for making the second highest selling album of all time – Back In Black – that a good proportion of folks that hear his name will respond with 'Who?' He's the archetypal unsung hero; the guy that only those in the know would realise the importance of. To me, it's simple, he's a hero.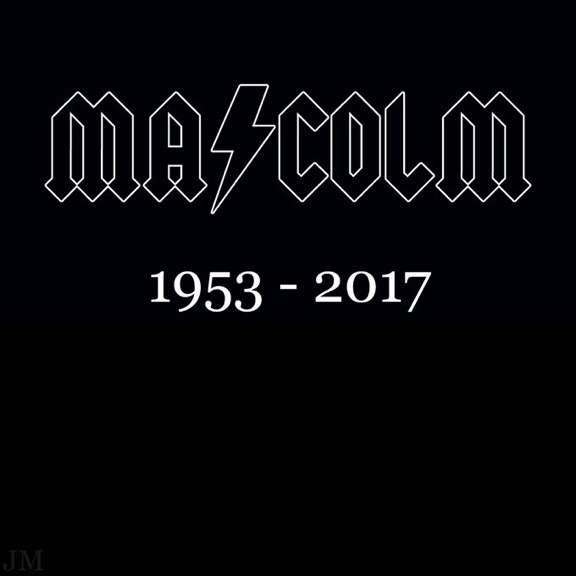 At some point in 1980, I went round to a friend's house and he put on the LP If You Want Blood (You've Got It). I couldn't believe what I was hearing. I'd been a typical youngster up to that point. I liked chart music, ABBA, Adam Ant, Madness and that sort of thing. But, it was just songs here and there. I didn't have any proper allegiance to a particular band or any genre. As soon as I heard If You Want Blood I knew I was an AC/DC fan and I wanted to be a rocker.
Over the next few years, I became an obsessive fan. I bought all the old albums, and all the subsequent releases on the day they came out. I bought them on tape, on vinyl and, eventually, on CD (twice after they were remastered). I bought bootlegs, videos, boxsets and I saw them live seven times. I even bought a French cassette version of High Voltage when I was on a school trip because it had a different cover to the British version at the time.
About two years ago, Malcolm Young, founding member and driving force of AC/DC, was revealed to be suffering from dementia and was forced to retire. I wrote a wee piece about that as I was so upset by it. So, the announcement of Mal's death at the age of just 64, wasn't a shock, but it still hit me hard. I shed a tear.
His music has been an absolutely integral part of my life since the age of 12. I remember feeling like a proper rebel when my dad reeled off some of their song names with utter disgust after picking up a cassette case for an album I was listening to. That first, jaw-dropping chord as Angus appeared on top of the amps at the Edinburgh Playhouse in 1986. There was the overnight bus from Stirling to London to see them at Wembley Arena in 1988 with a friend who's since sadly passed. There was that moment when my first band managed to cobble together a recognisable version of Touch Too Much. A magical couple of hours shared with my brother at Milton Keynes in 2001 as we bounced up and down to every song and left drenched in sweat and as high as kites without any drugs or drink being involved. Music is way more significant than just a bunch of wavelengths and Malcolm Young's music is way more significant to me than most.
As I write this I am playing his music – albums I've not listened to all the way through for a long time in some cases – and it's a joy. Pure, unadulterated joy. Oh, and genius. Utter genius. Later on, I will be raising a glass to the wee man and feeling grateful for all he gave me.
Thank you, Malcolm.