My first novel, In Many Ways, came out four years ago. I sometimes find it hard to believe that I have since written five more, but I have. In that time, I've struggled to find the winning formula to kick-start sales to a level that I might consider taking up writing full-time. Marketing the books has become as big a part of my life as writing them – with mixed results.
I've tried all sorts of things to get the message out to a wider audience; to let people know the books are there. I have decent numbers of reviews for all of the books in the UK (219 Amazon reviews with 87% of them four or five stars) but I have struggled to find readers and reviewers in the US (17 Amazon reviews with 76% of them four or five stars). My Goodreads ratings are ok – 60 in total and an average of 3.6 out of 5 stars. I've had bursts of sales during promotional periods that make me think maybe I've cracked it, only to find sales fall back again after they finish. It's a frustrating business.
I've connected with folks through social media and some of them have been very generous in their efforts to promote my stuff to their followers. I've joined a few author groupings although I find the levels of cross-promotion variable, and mostly poor. A lot of folk seem to join these collectives full of good intentions but are either not tech savvy enough to work out how to take part, are too self-absorbed to cross-promote others, lose interest after a bit, or find their time taken up elsewhere. I've done interviews and appeared on other writer's blogs or websites – all of those have been highlighted here previously. I don't consider any of this wasted effort, and I'm always grateful for any kind of leg-up from a fellow writer or a blogger, but I don't know how effective it is in gaining new readers.
My latest attempt to promote my books has involved a partnership with a friend who's also a talented photographer – Alan Gray. I met Alan because our daughters skated at the same club. One day, while browsing his website, I came across a superb photograph of the Clackmannanshire Bridge. I knew it was perfect for my next book cover as the bridge features prominently in the story. I asked him if he would let me use it and, thankfully, he agreed. We could both see the potential benefits to each other's business from doing this. We came to an arrangement about payment and usage rights and my publisher, Dave Lyons, set about creating the cover. We used an agency called 99 Designs, who ran a design tender process and, as part of that, we also asked our Facebook and Twitter followers to voice an opinion on the final three options. It was a fun process and got lots of engagement.
Once the book was launched I approached the local press as I always thought it made a good local-interest piece that we were working together in this way. I was right. Two papers have run articles in the past week.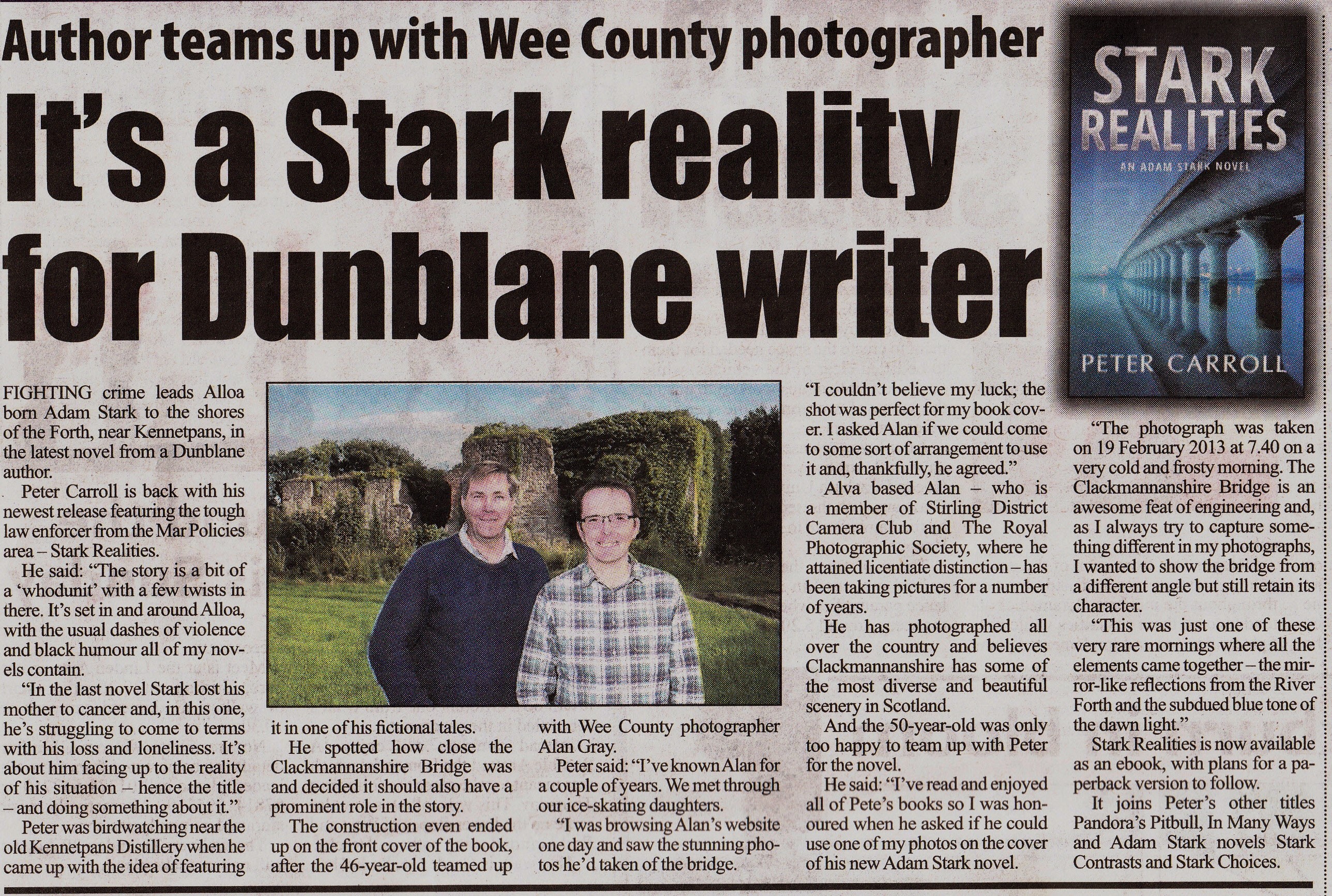 One thing I have noticed since I started working with Alan is the numbers of views my Facebook posts get are up significantly. I only have 209 Likes on my author page; he has 543 for his photography page. My previous record for views was 875, but two posts that Alan helped by cross-promoting exceeded 1000 views, with one of them hitting 1,300. That's a lot of extra reach I've gained from us working together. He tells me that he's seen an increase in website traffic but no upturn in sales as yet. It remains to be seen how effective this partnership will be for us in terms of increased revenue, but I still think it was a good idea and well worth doing.
Whatever happens, and despite the lack of a big breakthrough, I'll keep on building bridges with other folks and see where it leads. It's a lot less lonely working in partnership and I like helping other people out when I can. If you think we might be able to work together to each other's mutual benefit, please do get in touch.
Peter